About Us
ShareTV is a community-based website for fans of network television. The site tracks information for every major series which has aired since 1930 on networks based in the US, UK and Canada. As an official distribution partner of HULU, ShareTV is able to offer full-length episodes to watch free for hundreds of hit TV shows.
ShareTV Team
100's of members helped build ShareTV's database of television content.

Take a look at top contributors

here


ShareTV is located in the 4th story of the NBC building in downtown San Diego.

ShareTV, Inc.
225 Broadway, Suite 450
San Diego, CA 92101
ShareTV in the industry
| | |
| --- | --- |
| 11/13/2013 | ShareTV wins lawsuit and moves from .org to .com. Read the full story here |
| 03/19/2013 | ShareTV donates to Veronica Mars Movie Project. Check out the historical kickstarter campaign which brought the cancelled show back to life |
| 02/24/2013 | ShareTV streams the Oscars from ABC which is the first year its being released online. Deadline Hollywood mentioned ShareTV in a story about it here |
| 09/16/2009 | ShareTV interviews Robert Knepper and Ray Park for an upcoming season of Heroes. Check out the complete transcript provided by NBC |
| 08/15/2008 | ShareTV becomes one of the first fan sites to be an official distribution partner of HULU. You can see HULU's partners here |
| 06/01/2007 | ShareTV helps circulate petition to save Jericho after being cancelled. An article about the successful campaign is available on the LA Times Blog |
How did we get started?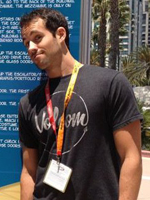 Chris Richmond is the creator of ShareTV, starting the site in 2007 after missing an episode of Smallville. He wanted to make an easier way to show visitors how to download their missed episodes. As the site developed he shifted focus to building a community and tracking info on all network TV shows. Chris attended UNLV (University of Las Vegas) at age 16 majoring in Computer Science. After completing two years he dropped out to pursue his own ventures. His first successful project was a domain search engine (www.pcnames.com) which he sold when his latest project ShareTV started to take off.